Now that we are familiar with the main menu and different gameplay modes, it is time to construct an army. To do so click on the edit army button, a screen should pop up that looks like this: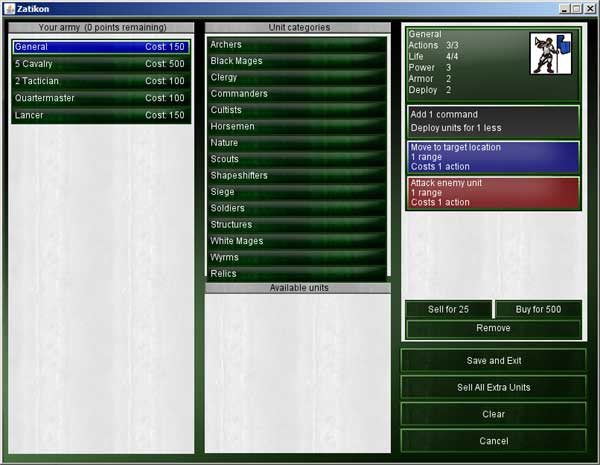 At the left of the screen, you will see a section titled "Your army" with "points remaining" in parenthesis. In the middle, you should see the "Unit categories" section and just below that the "Available units" window is available when you select a unit category. To the upper right hand corner you will see a unit attributes window which becomes available when you have a unit selected, and at the bottom right you have the option to save, sell extra units, clear and cancel your editing.
Your Army
In this tab, you will see the army you currently have fielded. You can clear that entire army with the clear button on the bottom right, or you can remove individual units by either double clicking them or selecting them, then clicking remove in the unit attributes window.
Unit Categories
The unit categories tab takes all of the units in Zatikon and separates them into categories that classify them based on common attributes. To find more out about the characteristics of units and their categories check out the "Units" section of this guide. To select a unit and look at its stats, click on a unit category, at the bottom middle of the screen a list will pop up containing all of the units in the selected category. A number will also appear by the individual units letting you know how many are available for you to use. If you wish to use more units, you can use your gold that you have earned in game to purchase more of them. When you click on a unit in this window, its stats and abilities will appear in the upper right hand corner. To add a unit to your army, you must first have it purchased and you must also have enough free points to add it, if these 2 conditions are met, double click the unit and it should appear in your "Your Army" section of the screen.
Unit Attributes and Abilities
On the upper right hand corner of the screen you will see a units attributes and abilities if you have one selected. There should be a picture of what the unit looks like and also given values for action, life, power, armor and deploy, but not all units have all of these attributes. There are also buy and sell options, the more a player plays, the more gold they earn, they can then use this gold to purchase units for placement in their army.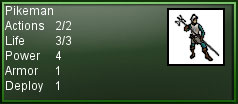 Actions: A unit's action points determine how many times that piece can act during a turn. Certain abilities use all of a units action points, and some abilities do not use any action points.
Life: A unit's life denotes how much damage it can sustain, when a units life reaches 0, it dies.
Power: A unit's power shows how much life a unit subtracts from an enemy unit per attack.
Armor: A unit's armor value is subtracted from enemy attacks to make them less effective.
Deploy: A unit's deploy value is how many commands it costs to deploy a unit from the castle.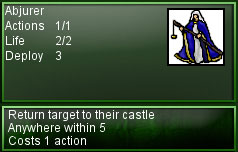 Unit abilities: The units in Zatikon have a wide variety of skills and abilities, to find out exactly what a unit's skills do, hover your mouse over the ability of interest, and a small box will appear that gives a detailed description of the skill.
Sell unit: If a player does not wish to have a certain unit anymore, a player can sell a unit for a fraction of its buying cost to regain a bit of gold.
Buy unit: If a player does not own a unit, he or she can click on this to buy it, a player can buy as many of a unit that they want, given they have the gold.
Edit Army Options
Save and Exit: Saves all changes done to your army and returns you back to the main screen.
Sell All Extra Units: When a player has more of a particular unit than it can field at one time, they can automatically sell off their excess ones with this command. For example, if a player has 6 knights, only 5 of them can be played at one time, since each knight is 200 points and the maximum army value is 1000. By selecting this command the game will automatically get rid of that extra knight.
Clear: Clears the current army you have created and gives you a clean palette to work off of.
Cancel: Cancels any changes done to your army and returns you to the main screen.