Home
>
Triptych
>
Demo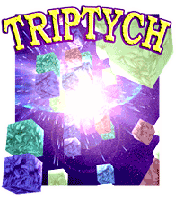 Demo Download

Windows Demo (1.5 MB):
Click Here to Download


OSX Demo (2.4 MB):
Click Here to Download


LINUX Demo (1.6 MB):
Click Here to Download
Chronic Logic news and updates:
Enter your e-mail address to receive e-mail updates about Chronic Logic news, products and patches.
We hate SPAM as much as you do and we will never use your e-mail address for anything other then sending you our updates. If you are concerned please read our
Privacy Policy.
Other ways to keep informed:



Note for Linux users:
You must have the
SDL
library installed for Triptych to work properly. This should be included with most Linux installations. Triptych also must be run in X from the actual folder its installed in. If you have problems with Triptych crashing make sure your desktop is in 24 or 32 bit color.