Home
>
Gish
>
Demo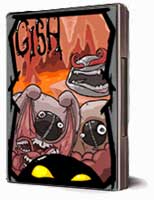 Demo Download

Windows Demo (9.8 MB):
Click Here to Download


OSX Demo (13.2 MB):
Click Here to Download


LINUX Demo (11.6 MB):
Click Here to Download
Chronic Logic news and updates:
Enter your e-mail address to receive e-mail updates about Chronic Logic news, products and patches.
We hate SPAM as much as you do and we will never use your e-mail address for anything other then sending you our updates. If you are concerned please read our
Privacy Policy.
Other ways to keep informed:



Note for Linux users:
You must have
SDL
,
OpenAL
, and
Ogg Vorbis
libraries installed for Gish to work properly. Gish also must be run in X from the actual folder its installed in. If you have problems with Gish crashing make sure your desktop is in 24 or 32 bit color. Also try running Gish with the no music option (./gish -nomusic) or the no sound option (./gish -nosound). To turn the sound back on you must use ./gish -sound.