Home
>
Bridge Project
>
Full Version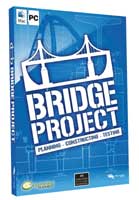 Price:
$24.95 $19.95
Versions:
Download size:
511 MB
Free demo:
163 MB
Available in:
Questions:
Contact Support
Delivery Options:
Download only version:
Immediately after completing your order for Bridge Project for download you will receive an e-mail with instructions for downloading the full version for Windows and OSX. It is very important you use a working e-mail address when ordering.
CD version shipped worldwide (+$6.00 shipping and handling):
The CD version it will be shipped from our office in Santa Cruz, California. The CD is shipped with the US postal service within 5 business days of your order. The CD will include the Windows or OSX version of the game. US orders will take an additional 2-4 days to arrive. International orders can take as long as two weeks.