Home
>
Gish
>
Order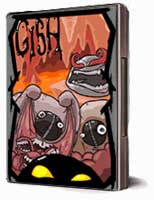 Price:
Now you choose the price! - more info
Versions:
Download size Windows:
42 MB
Download size Linux:
51 MB
Download size OSX:
53 MB
Free demo:
11.3MB
Developer:
Chronic Logic
Questions:
Contact Support

The video below shows the whole pick your price purchase process to the game download and launch.
Delivery Options:
Download only version:
Immediately after completing your order for Gish for download you will receive an e-mail with a keycode and instructions for downloading the full version for Windows, OSX and Linux. It is very important you use a working e-mail address when ordering. As soon as you have finishing downloading Gish you can install, and start playing. The first time you play Gish you will need to register with your keycode. An active internet connection is the quickest way to register. You can also register Gish without having an internet connection on the computer Gish is installed on.